Leggings vs Yoga pants: whether it's the seamless fit, design, or fabric, here are the differences you need to know.
Shopping for the right activewear when you know what you are looking for can be a pleasurable experience. However, finding the right outfit to wear for your workout routine can feel challenging, especially when it comes to leggings. Arguably, one of the most common questions that arise is how are leggings different from yoga pants? Well, worry not! Cause we are here to answer this very question.
So what are gym leggings and yoga pants anyway?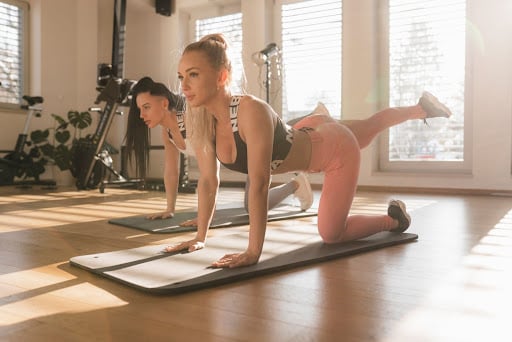 Yoga Pants
Yoga pants are typically made of thick and opaque fabrics that are stretchable and sweat-wicking and have a string or elastic waist. With yoga pants, you can do any seamless movement that you like and for as long as you like, since they are designed for flexibility and comfort. As the name suggests, they are preferred to be worn while performing yoga since they keep you comfortable as you transition from pose to pose. Similar to gym leggings, they can be fashionable and are available in many colors to choose from, and can also be worn as loungewear.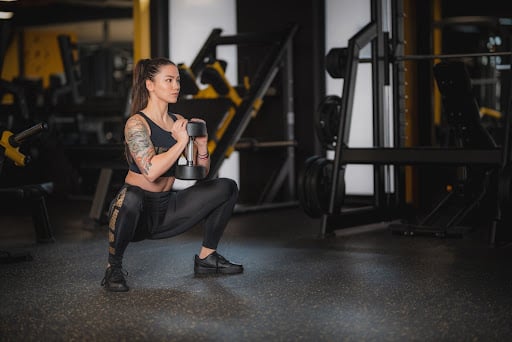 Gym Leggings
Although fashionable, they are a type of elastic-fitting bottoms and are typically made of moisture-absorbent and performance-driven fabrics that contour your body. Traditionally, leggings were made to fight off the cold weather by wearing them under jeans or trousers. However, over time they have secured the top spot in any activewear wardrobe. Gym leggings are designed for workouts and can be worn while engaging in many exercises be it running or weight lifting among others. They also come in various lengths from waist to ankles that fit your skin and are usually available in a variety of colors to choose from. 
Types of leggings based on material
Faux Leather 
Although they are like a nice pair of comfortable leather trousers and almost look the same, they are much more comfortable, breathable, and stretchy than leather pants and are usually worn to make a fashion statement. It's worth noting that this type of leggings may dig a big hole in your wallets, but in every way, they are worth the investment since with faux leather leggings, you can elevate your night-out look. 
Nylon 
Arguably, the most popular choice of fabric when it comes to skin fit. Nylon leggings are stretchable, durable, and more importantly, do not wrinkle. However, more often than not, they are likely to shrink when you wash them and Fabric softeners are a big no-no since nylon fabric needs to be treated with more care. 
Cotton
Popularly known as the leggings that hug your body due to their seamless and contour fit, cotton leggings are usually made with a combination of cotton and spandex, which allows them to stretch. They are also the most affordable and widely available leggings and come in a variety of styles. 
Wool 
Popular in places with cold temperatures, wool leggings are made to help you stay comfortable, warm, and super nice! The only downside is that they can be a bit expensive compared to cotton leggings. 
Polyester 
Made with a little higher quality, polyester leggings are stretchy and sweat absorbent and are preferably beneficial while running, jogging, or other similar activities with the only bad news being that they can get quite smelly.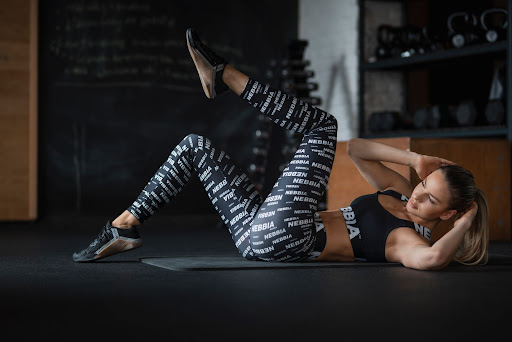 So if you are a gym-goer or a sports enthusiast, why should you choose gym leggings over other leggings for daily workouts?
While choosing leggings for our no-compromise workout routine, we all have our non-negotiable requirements when it comes to their seamless fit, opaqueness, and support. Gym leggings or activewear leggings are specifically made for fitness activities. They are made of thicker materials that do not allow them to sheer or become see-through after absorbing massive amounts of sweat.  Although breathable and stretchable, fashion leggings on the other hand are too thin to wear without a longer shirt, which is why they are usually preferable to be worn as a sleeker alternative to trousers or jeans. 
So what are the health benefits of getting yourself a pair of yoga pants or leggings?
They are Hygienic and Sweat Free 
One of the main reasons why people choose not to work out, apart from the usual excuse of "I don't have the time", is that they're worried about emitting a bad odor. Well, with leggings and yoga pants, we can put this problem behind us since both these pants are usually made with skin-fit breathable fabrics that are moisture and sweat-absorbent. In other words, they keep your skin free from sweat, thus, preventing you from suffering any skin-related hygiene issues and keep you fresh. 
They can help reduce stress. 
It may come as a shocker to think that a pair of seamless workout pants can be beneficial in curbing stress, but this is surprisingly true. Wearing anything other than leggings or yoga pants for a workout or a short trip outdoors can make you feel out of place, anxious, or under-dressed, thus leading to an increased amount of stress. However, going the activewear route of yoga pants or shaping leggings can make you feel comfortable and right at home, keeping your stress levels in check. So if it's going to be a long day at the office or a stressful day doing chores, you can plow through it in stress-free comfort. 
They help ease movement 
A lot of women prefer clothing that alters their shape and figure while compromising on comfort. This can often become tempting and can have a profound effect on your body movement. This choice of clothing can also potentially lead to strain in your hips and numbness in your limbs. The only saving grace is a nice pair of seamless contour leggings or any soft yoga pants that fit your skin with comfort.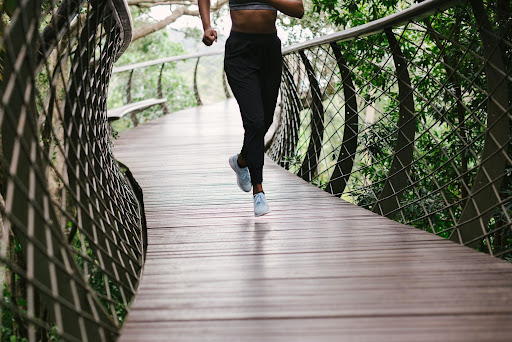 What about running in leggings?
Although their use is popular with numerous workout routines, they are beneficial for fitness freaks who love to run. So let's look at how leggings can be advantageous for your sprints:
Minimized resistance
Since leggings have a contoured fit, they make you more aerodynamic while running. Unlike regular loose trousers that flap around due to on-coming wind, leggings minimize any drag to your body and make your runs efficient and less tiresome. 
Improved blood circulation 
As regular trousers or jeans generally tug onto your legs, they can potentially impact blood flow and oxygen to certain parts of your body, thus making you feel drained early on. Leggings on the other hand with their skin fit and compression design can make you feel almost weightless, like if you weren't wearing any pants at all, thus allowing for sufficient blood circulation. 
Weatherproof
At some point in our own lives, we have all experienced accidentally stepping into a water puddle on a rainy day which only leads to our trousers being severely stained with dirt or mud, and more often than not, they end up in trash can. When it comes to leggings, however, some are made with fabrics that resist absorbing stains. When considering leggings that do not get stained, this needs to be taken with a pinch of salt since not all leggings are stain-proof. That said, polyester skin fit leggings are known to be durable and can be easily cleaned, thus making them harder to stain. In an article on Bustle.com By Sienna Fantozzi, Talia Petersen suggests that if you do indeed stain your leggings you do not need to throw them in the washing machine but rather spot clean them using products used in cleaning regular laundry stains. 
What are the advantages of doing Yoga in Yoga pants?
Freedom of movement 
Regardless of how flexible you are, you can always rely on yoga pants to support you, since they are made with flexible fibers that sufficiently stretch and always remain in place without requiring you to adjust yourself every few minutes. 
High waistband 
Yoga pants have a higher and wider waistband which helps improve muscle coordination. Additionally, they also help support hip muscles and abdomen during an intense yoga session thus helping you maintain your yoga zen. 
Easy to carry 
Unlike other pants such as jeans or trousers, yoga pants can be easily folded small enough to fit any size backpack without getting in the way of your sweat towel or yoga mat, and due to their lightweight fabric, they add almost no weight, thus making it comfortable to carry around. 
So are yoga pants and leggings the same thing? 
To a certain extent nope. The one main difference, which in most cases is easily noticeable, is their material. Yoga pants are typically made of thick and opaque fabric whereas leggings are made of stretchy and thin fabrics. They also vary in terms of style since leggings are designed with various lengths i.e below the knee, ankle-length, and calf-length that fit in a seamless and shaping fashion. On the other hand, yoga pants are offered in both skinny and boot-cut designs. The only noticeable similarity between them both is the millions of colors they are available in. 
What is the difference between yoga pants and gym leggings? 
The difference between yoga pants and gym leggings is pretty substantial. They are both made of different materials and both available at varying price points. To add to this, they also differ in terms of their functionality and what they are used for. The key takeaway here is that if you are looking for something for more workouts that demand flexibility, get a nice pair of yoga pants. On the other hand, if your workouts involve jogging, running, or high-intensity training, you will be better off with skin fit gym leggings. 
Why should you choose leggings over regular pants? 
Pants such as trousers or jeans are usually made with fabrics that can be suffocating, baggy and uncomfortable to wear on any occasion, especially, during workout activities. Leggings, on the other hand, are mostly made with a  flexible and comfortable fabric that has a contoured fit on your body which makes it a versatile choice of pants that can be paired with any clothing such as a  t-shirt or a tank top. 
Are leggings the right choice to wear at the gym? 
A big yes! Leggings are considered to be a staple workout wear for gym-goers since they are seamless and flexible enough to support your demanding workout routines. They also fit well on your skin, so much so that you almost can't feel them. If you are an entry-level gym goer and are looking for cheap and affordable activewear, leggings are your best bet! Since they are available at so many price points that you will surely find the right one that suits your budget without any compromise on their effectiveness, contour fit, and overall looks.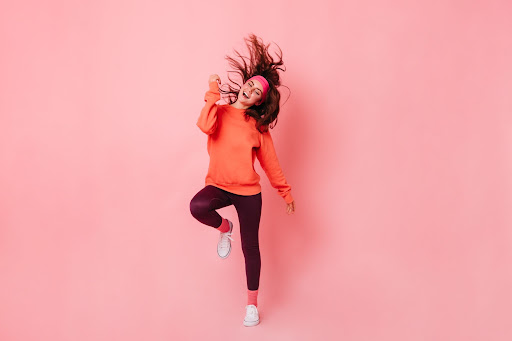 Should I wear leggings or pants with a dress?
As long as it's a casual occasion, you can wear leggings anywhere regardless of your age or what kind of dress you want to pair it with. They are the perfect excuse not to wear jeans since they work with almost any girly item in your closet and can also help you cover up any insecurities that you may have about your legs. Leggings can also help you add a little modesty to a dress that may not be appropriate otherwise and are a perfect choice to spice up any boring outfit that you may have lying around.  Read here about how you can wear leggings as business casuals. (Link to Leggings as Business Casual Outfit – Yay or Nay?) 
Are yoga pants better than leggings? 
Well, neither is better than the other since they both have their functional uses and may also differ in terms of their shaping fit and varied comfort levels.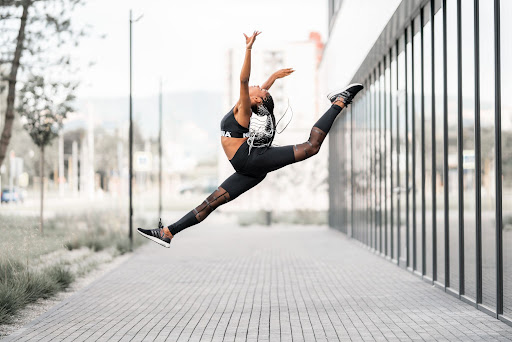 Where can I buy gym leggings and yoga pants for both Men and Women? 
Leggings and yoga pants can easily be found and purchased from any activewear, sports store, or fashion outlet in your nearest mall or shopping center. If that's no good, there are hundreds of online stores where you can shop for the latest trending yoga pants and seamless leggings. But how do you know if you are buying the right one and at the right price, and more importantly, how can make your activewear shopping experience a bit more fun?  Well, you can put these worries behind you and visit our website Gulfissimo.com. At Gulfissimo, we not only offer the highest quality activewear at unmatched prices, but we also strive towards providing the most stress-free and fun shopping experience so that you can easily find the right activewear to slay your fitness goals. Our collection includes activewear from some of the most trusted brands such as Ryderwear and Nebbia among others, whose products are made with the highest quality fabric and specially designed to seamlessly fit your physique and support you during your workouts.
So! Are you excited to get yourself a new pair of leggings?
Here are some of our favorite picks that are available on sale on Gulfissimo.com right now: 
RYDERWEAR ELECTRA SEAMLESS LEGGINGS SHOP NOW
PROTOKOLO DEBRA PRINT WORKOUT LEGGINGS SHOP NOW
NEBBIA SALMON HIGH WAIST LEGGINGS SHOP NOW
RYDERWEAR GLOW HIGH WAISTED LEGGINGS SHOP NOW
Not sure what top or shirt goes with these leggings? No worries, we have taken the liberty of curating some sports bras and shirts that look so good together with them:
RYDERWEAR ELECTRA SEAMLESS SPORTS BRA SHOP NOW
NEBBIA RED ATHLETIC CUT SPORTS BRA SHOP NOW
NEBBIA YELLOW TIED KNOT T-SHIRT   SHOP NOW
RYDERWEAR GLOW SPORTS BRA SHOP NOW
Conclusion
In a battle between yoga pants vs leggings, the result would be inevitably tied since they are both comfortable, flexible, and to a certain extent durable. Put simply, if you are looking for something to wear for a party this weekend, your best bet is an awesome pair of fashionable leggings that contours your body and goes with any top you are likely to throw on. However, if you are looking for pants that can support you during an intense or flexible workout, you are better off getting yourself a nice pair of skin-fit leggings or yoga pants.